An End-to-End Machine Learning Course Series on Coursera
This expansive, three-course specialization will empower you to launch machine learning. Accessible to business-level learners and yet vital to techies as well, it covers both the state-of-the-art techniques and the business-side best practices.
LEARNING OBJECTIVES
 After three courses, you will be able to:
Lead ML: Manage or participate in the end-to-end implementation of machine learning
Apply ML: Identify the opportunities where machine learning can improve marketing, sales, financial credit scoring, insurance, fraud detection, and much more
Greenlight ML: Forecast the effectiveness of and scope the requirements for a machine learning project and then internally sell it to gain buy-in
Regulate ML: Manage ethical pitfalls, the risks to social justice that stem from machine learning – aka ethical AI
ABOUT THIS SPECIALIZATION OF THREE COURSES
Machine learning is booming. It reinvents industries and runs the world. According to Harvard Business Review, machine learning is "the most important general-purpose technology of our era."
But while there are so many how-to courses for hands-on techies, there are practically none that also serve business leaders – a striking omission, since success with machine learning relies on a very particular business leadership practice just as much as it relies on adept number crunching.
This specialization fills that gap. It empowers you to generate value with machine learning by ramping you up on both the technical side and the business side – both the cutting edge modeling algorithms and the project management skills needed for successful deployment.
NO HANDS-ON AND NO HEAVY MATH. Rather than a hands-on training, this specialization serves both business leaders and burgeoning data scientists alike with expansive, holistic coverage of the state-of-the-art techniques and business-level best practices. There are no exercises involving coding or the use of machine learning software.
BUT TECHNICAL LEARNERS SHOULD TAKE ANOTHER LOOK. Before jumping straight into the hands-on, as quants are inclined to do, consider one thing: This curriculum provides complementary know-how that all great techies also need to master. It contextualizes the core technology, guiding you on the end-to-end process required to successfully deploy a predictive model so that it delivers a business impact.
IN-DEPTH YET ACCESSIBLE. Brought to you by industry leader Eric Siegel – a winner of teaching awards when he was a professor at Columbia University – this specialization stands out as one of the most thorough, engaging, and surprisingly accessible on the subject of machine learning.
RATINGS AND REVIEWS
Thousands have enrolled – check out the reviews just below or click a course for its star ratings and more reviews:
An exceptionally insightful and unique course by none other than the maestro of predictive analysis Dr. Eric Siegel. It elucidates us how launching machine learning – aka predictive analytics – improves marketing, financial services, fraud detection, and many other business operations. I thank SAS for collaborating with Eric for this amazing initiative.
—Ajith Nair, Graduate of Fr. Conceicao Rodrigues Institute of Technology
If you have any interest in machine learning from a technical or even a business/management position, take this course by Eric Siegel, the guy who wrote the book on predictive analytics.
—Jason Green, Data Engineer, Proofpoint
Being not new to Coursera and having collected several course certificates from this platform in the past, I have to say that this course stands out among the others. This instructor is presenting the material in a clear, fresh and truly engaging way making this topic accessible to everyone.
—Christina Morgenstern, University Lecturer, University College of Teacher Education Carinthia (Austria)
TWO COURSE VIDEOS AND MORE INFO
More sample videos and course information:
Machine learning ethics:
Machine Bias – Why Crime Risk Models Are Racially Inequitable:
HOW TO ACCESS FOR FREE
This course series follows the "freemium" model. You only pay if you want to qualify for the certificate.
There's one little trick to accessing the three courses on Coursera for free – and this applies for most other Coursera courses as well: Navigate to an individual course rather than the overall specialization of courses and then, when you go to enroll, there will be an "Audit" option at the bottom. This option is not displayed if you attempt to enroll at the specialization level, so you must enroll for each course separately. Auditing provides full access to all course contents and practice quizzes, but does not allow you to earn a certificate.
If at any time you decide you would like to upgrade to a paid enrollment in order to earn a course certificate or the overall specialization certificate, you may do so on the Coursera platform.
Select a course or the overall specialization for more details or to enroll:
Course 1: The Power of Machine Learning: Boost Business, Accumulate Clicks, Fight Fraud, and Deny Deadbeats
Course 2: Launching Machine Learning: Delivering Operational Success with Gold Standard ML Leadership
Course 3: Machine Learning Under the Hood: The Technical Tips, Tricks, and Pitfalls
Full three-course specialization: Machine Learning Rock Star – the End-to-End Practice
This vendor-neutral Coursera specialization is offered by Eric Siegel in collaboration with SAS.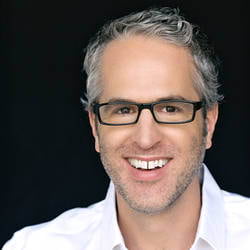 INSTRUCTOR: ERIC SIEGEL
Watch Eric's short "about the instructor" video
Eric Siegel, Ph.D., is a leading consultant and former Columbia University professor who makes machine learning understandable and captivating. He is the founder of the Predictive Analytics World and Deep Learning World conference series, which have served more than 17,000 attendees since 2009, the instructor of the acclaimed Coursera specialization Machine Learning Rock Star – the End-to-End Practice, a popular speaker who's been commissioned for more than 110 keynote addresses, and executive editor of The Machine Learning Times. He authored the bestselling Predictive Analytics: The Power to Predict Who Will Click, Buy, Lie, or Die, which has been used in courses at more than 35 universities, and he won teaching awards when he was a professor at Columbia University, where he sang educational songs to his students. Eric also publishes op-eds on analytics and social justice. Follow him at @predictanalytic.